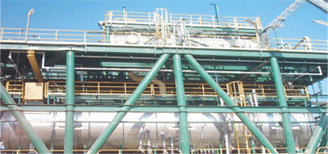 Vision World is specialized in steel, structural and industrial fabrication,and pipe work for ship repair and rig up-gradation. We are fully equipped to carry out work in U.A.E or any part of the world within short notice. We also carry out voyage repairs and provide riding squads to meet emergency requirements.



Vision World is totally committed to improving Quality, Health, Safety, Environmental standards and actively encourages and promotes the levels of awareness that such standards demand. It is the policy of Vision World that all its employees execute their work under safe and healthy conditions with the proper concern to prevent all unsafe acts, personal injury,damage to the property and to the environment.



Vision World is a one stop solution provider for the entire Industrial, Marine and Off Shore, Oil & Gas manufacturing and maintenance needs. Our tie-ups with other experienced medium size players in the industry offer our clients a cost effective and problem free solution with single point of contact.
Heavy structural steel fabrication and erection.
Marine and offshore repair.
Process and utility piping for oil & gas and petrol
chemical industries.
Upgrade and refurbishment of land rigs and ships.
Upgrade and refurbishment of jack up rigs.
Providing qualified and experienced short term/long term
contracted work force.